News and Events
Dec 13, 2019
Clay County Electric official contract signing for solar field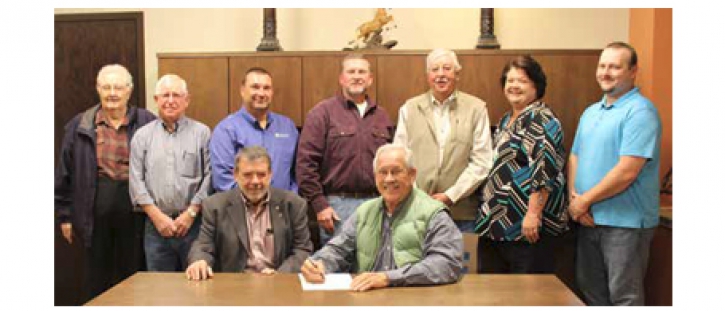 Image: Clay County Electric Cooperative's general manager and board members attend official contract signing with TPI. Pictured, General Manager David Smith with President John Dalton signing contract. CCECC board members pictured left to right: Rueben Seay, Jerry Turner, Wade Schimming, Cary Wilson, Charlie Raglin, Connie Pendergrass, and Simeon Snow. Not pictured, Director Todd Young.
Clay County Electric Cooperative Corporation officially signed a contract with Today's Power, Incorporated (TPI) on Thursday, October 31st. As first reported in July, Clay County Electric contracted with TPI to build a one-megawatt solar array.
"Clay County Electric Cooperative is a trusted, local energy provider dedicated to providing our members with reliable service," said David Smith, General Manager of Clay County Electric Cooperative. "Today's Power will provide a proven, utilitygrade solution to meet requests by members to add alternative energy sources to our
resources. Clay County Electric will use the data from this array to consider future behind-the-meter generation planning to benefit our members."
The project, like many designed and built by TPI, a wholly owned subsidiary of Arkansas Electric Cooperatives Incorporated, will feature 3,700 photovoltaic panels on a single-axis sun-tracking system, all installed on 8 acres directly east of the Corning headquarters facility in Clay County. The array panel system will be made up of directional arrays which track the path of the sun east to west to achieve greater efficiencies. The system mechanically tracks the sun throughout the day and rotates the array panels for maximum sun exposure. Directional arrays are capable of generating near peak capacity for a longer period of time. The directional arrays tilt toward the sun as it moves across the sky, increasing energy capture.
The system is designed to mitigate CCECC's peak summer demand. The cooperative serves more than 12,000 member accounts in Clay, Greene, Randolph and Sharp counties in Arkansas, as well as Butler, Ripley and Oregon counties in Missouri.
"We are pleased to add solar energy to our reliable energy resources," said General Manager David Smith. "We are eager to measure and track the energy generated by the solar array for educational purposes." Smith stated that the concept of solar power has not changed, but the cost associated with solar technology has decreased. The decreasing cost of the photovoltaic technology and the tax incentives make it the right time to bring solar energy as our cooperative's first owned energy generation source. The solar farm will produce the lowest-cost renewable energy resource and deliver a clean energy supply to our members.
Construction Progression of CCECC Solar Farm