Compact Fluorescent Light (CFL) Bulbs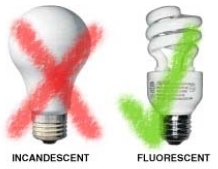 Compact fluorescent light bulbs are a low cost and easy way to save energy. Save about $30 or more in electricity costs over each bulb's lifetime. Click here to find out more about energy saving fluorescent light bulbs and other energy saving tips.
Light bulbs are available at all Clay County Electric offices.
*By clicking this link you are leaving the ClayCountyElectric website and entering a website maintained by a third party. The third party is entirely responsible for the content of their website.