News and Events
Aug 1, 2018
Clay County Electric Cooperative hosts 79th Annual Meeting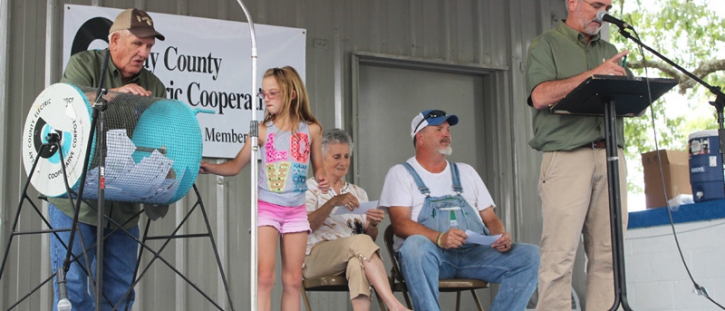 Clay County Electric Cooperative members and guests attended the 79th Annual Membership Meeting of the cooperative on June 22 at Wynn Park in Corning.
Attendees enjoyed a cooler-than-usual summer day under the shade of the park's trees with music provided by the Rhodes Family, a longtime annual meeting tradition, and a magic show presented by Magician Scott Davis. Civic organizations operated food stands while cooperative employees hosted children's activities prior to the business session.
Clay County Electric Board President John Dalton called the meeting to order, declared a quorum and after the invocation, Clay County Electric General Manager David Smith welcomed the attendees and provided an update on Clay County Electric's projects in the past year, including making upgrades and replacing older conductor, or wire, on power lines. Crews also replaced 100 poles as part of the co-op's annual pole inspection. Smith also noted that the crews are building eight miles of transmission lines and a substation on Arkansas 251 north of Pocahontas to be completed in September (Ingram substation) and three miles of 477 double-circuit distribution line north of Pocahontas. Pole inspections and right-of-way maintenance are ongoing. The co-op has installed 30 miles of fiber for communications between the Pocahontas and Corning offices. In addition, Smith said a mapping project will soon be completed and that he expects members will have online access to their accounts by late summer. As part of the co-op business model, he noted that Clay County Electric recently returned about $1 million in capital credits (margins) to members.
"I thank you and all of our members for trusting us with the great responsibility of operating our cooperative," Smith said. "I thank the directors for their governance and oversight, the monthly decisions that are not always easily made, and I thank the employees for their hard work. The cooperative is no better or worse than the men and women who do what it takes, day in and day out. We are Clay County Electric."
He then introduced Duane Highley, president and CEO of Arkansas Electric Cooperative Corporation (AECC), a wholesale electricity supplier to Clay County Electric Co-op and the state's 16 other electric distribution co-ops, and Arkansas Electric Cooperatives Inc. (AECI), a statewide service organization owned by Clay County Electric Co-op and the state's 16 other

electric distribution co-ops.
"We work for you, and I am proud to work for each and every one of you," Highley said. "And that's the cooperative way, we work for you. If it weren't for the electric cooperatives I know there would still be parts of the state waiting for electricity." He added that the electric co-ops' mission statement contains three words — reliable, affordable, responsible.
Next came the business meeting where members (402 registered to vote) approved cooperative reports and other business and elected the following directors:
Area 1, Zone 3: Charles Raglin, incumbent, vs Teresa Hancock. Charles Raglin was re-elected.
Area 2, Zone 1: Jerry Turner, incumbent, vs James P. Mosher. Jerry Turner was re-elected.
Area 3, Zone 1: Futrell Butler, incumbent, vs Simeon K. Snow. Simeon K. Snow was elected.
In addition, the following received attendance prices:
Shark Ion Robot – Geraline Hancock
Shark Flex – Rudolph Johnson
Electric Grill Margaret Staggs
Electric Grill Harold Riggan
Shark Rotator – Bill Gentry
In addition, door prizes were awarded and included:
3 winners of $100 Energy Certificates
30 winners of $50 Energy Certificates
2 winners of AECC/AECI Gift Certificates